AgencyPro Overview
Our Flagship product, AgencyPro™ for Windows, has ALL of the tools you need to run a virtually "paperless" insurance agency. With optional Download Module, you can automatically download client and policy information from your Carriers or rating vendors in ACORD® Level 3 format. Saves unnecessary data entry and prevents E&O. AgencyPro is considered to be one of the most comprehensive agency bill insurance accounting systems available anywhere. It is a full agency accounting system including client A/R, rep and company payables, direct bill reconciliation, invoicing and receipts. It works on either cash or accrual basis and produces all necessary financial statements including a Balance Sheet, Income and Expense Report and a Trial Balance. It also includes all of the features of EZAgent. Our staff of agency accounting experts are the best 'hand-holding' department in the industry.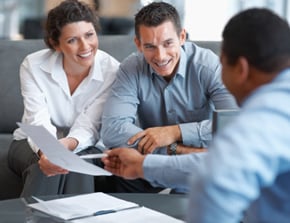 Accounting & Invoicing
Comprehensive and Easy-to-Use General Ledger Accounting System. Entire Accounting Picture is Automatically Generated from Policy Input. QuickBooks® doesn't do this and causes double entry.
Direct and Agency Bill accounting
Track Client Payments, Rep Commissions, Company Payables, Income and Expense, Balance Sheet.
Easy-to-Use Direct Bill Reconciliation. Saves time and catches errors.
Complete Client Account Receivables with Invoicing and Statements
Checkbook Manager – Keeps Track of all your Accounts and Print Checks.
Four hours of Free Accounting Training included. We setup of your Chart of Accounts.
Client Database, ACORD Forms & Reporting
Enhanced Client Database with Filtering, Advanced Search, Columnar Sort, Pre-populated Drop-Down Lists to standardize data entry.

Comprehensive Policy Management and X-Date Tracking.
Transactional Filing Subsystem Automatically Prevents E&O and tracks productivity.
Family Members/Demographics Database
Integrated Document Management – Attach ANY file type (Pictures, PDF, Email, Excel, movies, sound, etc.) to Client's file.
All 850+ ACORD Forms including Certs, Binders, and Apps for all states.
Ability to Electronically Sign ACORD forms Email without printing first.
Time and Rep Stamped Client Notes Automatically Set Ticklers for follow up.
Integrated Security (lets you choose which employees see what information)
Powerful Certificate Holders Database Fill out one single cert and send to hundreds of holders. Includes Cert Holder Report to give to your carriers.
Integrated Email and Adobe® PDF support. Save Email History to Client's file.
Vehicle Database Pre-fills vehicle information to ID cards, etc.
Pre-fill of Common Data between most commercial forms
Selectable WYSIWYG Modes for enhanced viewing of forms
Integrated Survey module with 200+ commercial Surveys
Coverage Database – Pre-fills Limits/Deductibles to ACORD forms
Many Reports – including Income & Expense, Balance Sheet, Earned Premium, Aged Receivables, X-Dates, Mailing Labels, and Many More!
Easy to Use Custom Report Wizard – Extract any Information you need!
Word Processor with 100+ pre-written sales letters. Automatic Client Merge.
Other Features
AgencyPro™ is full of agency management features which will enhance your operations
NEW !*

Today Screen

keeps track of the last 20 clients, policies, ACORD Forms, Images, etc. that you worked on to quickly navigate back to those tasks.
Newest

WebView

Technology

automatically navigates and logs you in to over 130 carrier websites.
Includes the

Agency Software Printer which allows you to attach a picture of virtually anything you can print (DEC Sheets, PDF Files, emails, pictures, etc) directly to the customer's file
Tickler/Calendar Subsystem with Pop-Up Alarms. Manage any user's schedule from your computer. Set Tasks, Appointments or Alarms for yourself or groups.
Compatible with our

Award-Winning Download Manager.
User Selectable Skins to customize the Look and Feel of the AgencyPro.
Cloud Hosted version available. Access your data from any web browser in the world.
Toll free 800 tech support – Best "Hand Holding Department" in the industry!
NEW!*

Microsoft SQL Server Version Upgrade Now Available.

Click Here for details

.